Thought leadership: How to sell yourself with your expertise
Influencer + Expert = Thought Leader
Brand awareness and new customer acquisition are most frequently cited by our customers as marketing goals. With good thought leadership, you cover both goals at once in the best case. I explain what thought leadership is and why it is so important in this blog post.
Thought leaders are not only leaders – as impulse generators and signposts, they often contribute to opinions being formed in the first place. An entire brand can achieve this status through its acting persons or also individuals(personal brands). The decisive factor here is to be perceived and recognized as an expert by one's respective target group. Successful thought leadership requires not only expertise, but also close communication with the audience in question. Corresponding relationship management therefore also plays an essential role, as Microsoft's former chief strategist Daniel Rasmus also notes:
"Thought leadership should be an entry point to a relationship. Thought leadership should intrigue, challenge, and inspire even people already familiar with a company. It should help start a relationship where none exists, and it should enhance existing relationships."

– Daniel Rasmus | Business Analyst and Bestselling Author
What characterizes thought leadership?
If you look at personas active on the Internet, you can identify four groups: Insiders, Influencers, Experts, and finally Thought Leaders. They differentiate themselves based on their reach and expertise, as I've noted in this graphic:
The difference between insider, influencer, expert and thought leader.
Insiders are personalities who are well versed in a field. They don't necessarily have to have expert knowledge and usually don't have a wide reach. But they have a decisive knowledge advantage in one area – which distinguishes them from the completely uninvolved outsider. So they have a good base to become opinion leaders, but they lack both reach and expertise.
Unlike insiders, influencers enjoy a high reach, but in most cases this is not based on any particular expertise. And this is exactly the difference to thought leadership: Influencers generate their reach with emotions and recommendations, which can work well in the B2C sector. A thought leader, on the other hand, scores points with facts, knowledge and expertise.
Experts are the other extreme of our consideration: In order to attain expert status, no outreach is required. A university professor is considered an expert in her field, lectures and publishes research results in various papers. However, it only shares this knowledge with its specific target group – the general public has no access to this knowledge unless it specifically seeks it out. This group has the easiest time doing thought leadership because outreach can be generated faster and sooner than expert-level knowledge. Many experts go public with their knowledge. Podcasts, for example, give them a platform that then turns them into broadly effective thought leaders through high reach.
Thought leaders are trusted because of their expertise, and thus they combine high expert knowledge with wide reach. They are influencers and experts at the same time and manage to communicate their expertise to a large group in an understandable and authentic way.
Christian Drosten, who has gained attention especially in the last year, is an example here. As head of virology at one of the most renowned hospitals, he is an expert in his field of research and also goes public with it in interviews, broadcasts or press conferences.
In summary, the following characteristics can be identified for good thought leadership content:
Thought leadership as a marketing goal
When I ask new customers or the audience at presentations about the most frequently mentioned marketing goals, greater brand awareness and new customer acquisition are very often mentioned. The former also increasingly includes brand awareness in the context of expertise – and thus thought leadership. Service providers in particular are advised to work more intensively on thought leadership qualities. After all, in the finance, consulting, technology and many other service industries, expertise is the best way to stand out as a unique selling point.
Thought leadership can also be wonderfully combined with new customer acquisition, because lead generation in most cases needs a certain know-how that is passed on. Lead magnets such as whitepapers, e-books, webinars and case studies already build on expertise and are provided free of charge to gain the trust of the target group. So if you use one of these lead magnets, you are already positioning yourself or your brand as an expert, opinion leader and thought leader.
Leveraging thought leadership as a business
Companies can engage in thought leadership by letting people from their communities speak for them. Which people these can be and the level of trust they are associated with, we have discussed in our blog post on Advocacy and Trust in Social Media Marketing recorded.
"It is advisable to adopt a modern employee advocacy approach: Instead of asking employees to share everything and every post, encourage them to position themselves as experts in the public sphere."

– Christian Haberl | CEO of HUMANBRAND
Even at the risk of employees possibly being poached, it is worth encouraging them to spread internal expertise externally. Because in the best case, a win-win situation is created: you both gain trust and attention. It's important that the brand remains authentic – so multiple voices need to approach the public.
"Not only the people acting – the experts within the company – but also the company itself is perceived as a thought leader!"

– Christian Haberl | CEO of HUMANBRAND
In combination with content marketing, companies succeed in creating added value and generating benefits for the target group. With blog posts on specialist topics, expert podcasts, webinars or gated content, the brand is associated with expertise. The company is perceived by its target group ("awareness") – as a thought leader, as a leading force in the respective specialist area and thus as a thought leader.
Often, executives shy away from positioning themselves as thought leaders because they don't have the time. By convincing people of the importance of this and, if necessary, through skilful coaching, managers can also strengthen their personal brand and act as opinion leaders. As a last resort, ghostwriting is one way to solve this problem: Employees who work closely with the person anyway can take quotes and topics from everyday work and turn them into posts and food for thought. This makes it possible for busy executives or people in management to share their expertise on their personal profiles and position themselves as thought leaders. Converting other formats such as speeches, press statements, etc. into content for social media by personal assistants is also conceivable. As an executive ghostwriter, it is important to master the "Tone of Voice" and align well with the executive.
You don't become a thought leader overnight, because it requires persistence and communication, in addition to expertise, until a certain reach is gained. You already have to bring both expertise and a certain network with you. Whether insider, influencer or expert – it is possible for all of them to become well-known impulse generators – thought leaders. Experts probably have the easiest time of it, because expertise and specialist knowledge are the basic prerequisites for being perceived as a leader by one's community. In any case, those who build on their knowledge and acquire the above characteristics step by step are well on their way to becoming thought leaders.
Do you have any questions? Then get in touch with us:
https://www.humanbrand.com/wp-content/uploads/2021/07/FB-LI-XI_strategischer-Social-Media-Content.png
628
1200
Christian Haberl
https://www.humanbrand.com/wp-content/uploads/2019/07/HB-Logo-2018-new.png
Christian Haberl
2021-07-05 16:30:24
2023-01-28 10:55:34
Strategic social media content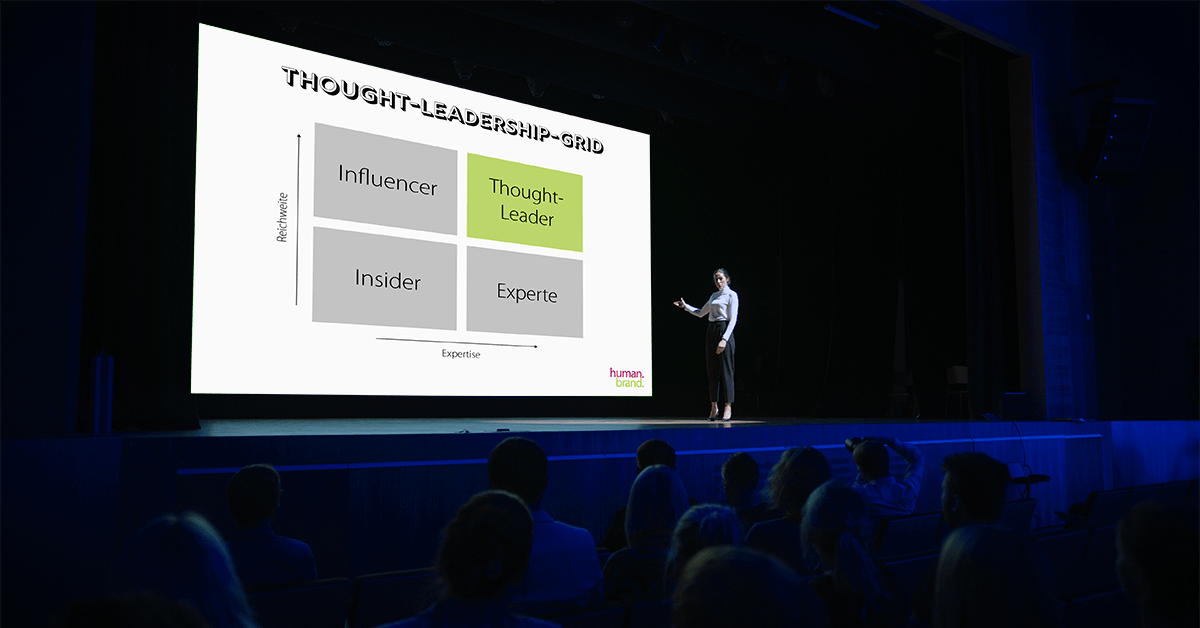 https://www.humanbrand.com/wp-content/uploads/2021/04/Tiny_Blog-Header-Thought-Leadership.png
628
1200
Christian Haberl
https://www.humanbrand.com/wp-content/uploads/2019/07/HB-Logo-2018-new.png
Christian Haberl
2021-04-21 16:09:32
2023-01-28 10:46:50
Thought leadership: How to sell yourself with your expertise