Strategic social media content
Content strategy and editorial planning for companies
"Let's get something on social media!" is easier said than done. To be truly successful with social media, you need good planning and an end-to-end strategy. In this post, I'll show you what to look for in a balanced content mix, thoughtful editorial planning, and measurable results.
For successful marketing and communication with the target group, a professional social media presence is crucial for every company today – whether B2B or B2C. If you want to do good and efficient content marketing instead of just entertaining your audience, you need a well thought-out strategy. This starts with the company and the brand itself, with defining the goals and intentions – setting up a content mix – continues with editorial planning and ends with the evaluation of the collected results.
You can and must learn from these evaluations, results, and reports: A good strategy only works if the collected findings are incorporated into the planning, and this often leads to the editorial plan being adjusted as needed. "Themotto here is "Make sure youimplement the lessons learned!
The individual steps to strategic social media content -.
a cycle!
In this post, I focus on creating a strategic content mix and provide tips for subsequent planning.
Why do companies need a content strategy?
Once the decision is made to have a social media presence, many are faced with the question, "How do I get started?" Without a strategy or a predefined content mix, the result is that people post whatever is easiest for the person responsible in the company or what the person who shouts the loudest brings. This usually leads to monotonous and irregular content, which in the best case only serves to entertain the target group and generates hardly any reach or reactions, in the worst case brings no added value for the target group and even casts a negative light on the brand. With a structured and strategic content mix, on the other hand, goals can be achieved, results measured and continuously improved. The published content can (for example, in the case of international companies or groups of companies) also be adopted, shared or localized across countries or across the group. This creates synergies and saves costs.
Content mix: define
"

dimensions
Before a brand presents itself on social media, it should be decided which core messages are to be communicated to the outside world in the first place and "dimensions" should be established.
There are universal dimensions that are important to the content mix of all companies, such as: Channels/Platforms, Targets, Senders/Ambassadors, and Audiences.
On the other hand, there are company-specific dimensions – these can be described with terms such as "product houses," focus topics, "marketing plays," "main messages," or even "campaigns" and are often derived from an overarching marketing and communications strategy.
At the beginning of the social media content strategy, it is recorded which dimensions already exist in the company, which need to be supplemented and which points require special attention. At this point, it is particularly important to weight the individual dimensions: what should the communication focus on?
The following areas are grouped under each dimension:
Goals: What do I want to achieve?
Whether it's brand awareness, lead generation, or sales – all dimensions depend on the marketing goals to be achieved with the help of social media. From channel to tone to format, each objective requires a specific approach and design.
Target groups: Who do I want to reach?
The target group is, of course, just as crucial for the content mix. Depending on the target, the desired audience is reachable on different platforms and probably responds to different formats. A "business decision maker" will be more interested in a blog post than an Instagram story from the office floor. The question "For which people do I design my content?" may sound trivial at first, but it is fundamental to the entire content mix. We've covered the points you need to consider in order to create relevant and useful content for your target audience in our blog post on the ideal post in B2B.
But relevant content alone is not enough to reach the respective target group. Even with many followers on the company's channels, only the same people are ever visited: A share of the followers and ideally also a part of their network. If you want to specifically address new target groups, you have to ensure reach . This is achieved primarily through paid social media advertising, i.e., byboostingorsponsoringcontent and targeting it specifically.
Themes
&

Messages: What to communicate?
For many companies, walking the tightrope between what the audience wants to hear and what the company wants to talk about is a challenge. Just like on a first date or talking to an old friend, it's essential, especially in the noisy world of social media, to be sensitive to your specific audience and, most importantly, to listen.
"The most important thing is to put the target group at the center. Good content marketing happens where the needs of the business and those of the audience meet. Listen to your target audience!"
In our blog post, we used the example of the software company Sage to illustrate what successful content marketing in the B2B sector can look like.
Products/Services: Which products do I want to focus on?
The amount of work and time required is considered by very few people, yet it is essential for a successful social media presence. Little time often means that content is chosen based on the least amount of effort possible. The result is simple content, rather than attention-grabbing Thumbstopper. We've captured how you can still make them time-efficient in our blog post about Thumbstoppers.
Channels
&

platforms: Where do I communicate?
Not every social media platform is necessarily suitable for every topic – and this is not only specific to the target group, but also influences the content format and the time required. Here, one should pursue the question of which platforms are suitable for which topics. For example, the marketing objective thought leadership can be played well with expert blog posts, which are difficult to do on image-based Instagram. An elaborate video with an interview, on the other hand, is very suitable on this platform and also takes time accordingly.
Whether it's customer testimonials, partner success stories, or media coverage, the authenticity of a brand depends in large part on who communicates it. The closer the voice is to the customer, the more credibly the message is received. The relationship between sender and trust is explained by the Megaphone of Trust, which we introduce in our blog post on employer branding.
Regions: Who does my content affect?
For international companies, it is especially important that the same content is not brought to every region. Instead, a centrally controlled channel is recommended, which can then target individual countries using geotargeting . This way, several topics can be covered and it is only decided afterwards where they will be played out. This is also where it makes sense to create cross-regional synergies – so content can be localized and translated in the blink of an eye.
This is what such a (highly simplified) list could look like using the example of a technology company:
Dimension

Contents

Product houses

– Cloud

– Telephony

– Automation

Targets

– Increase awareness

– Generate sales contacts

– Communicate added value to customers

– Highlight industry expertise

– Bringing partnerships into focus

– Offer training

Topics

– Data security

– Quality assurance

– Productivity

Industries of the target group

– Sale

– Finance

– Production

– Healthcare

– Public Relations
This is what such a (highly simplified) list could look like using the example of a technology company:
Dimension
Contents
Product houses
– Cloud

– Telephony

– Automation

Targets
– Increase awareness

– Generate sales contacts

– Communicate added value to customers

– Highlight industry expertise

– Bringing partnerships into focus

– Offer training

Topics
– Data security

– Quality assurance

– Productivity

Industries of the target group
– Sale

– Finance

– Production

– Healthcare

– Public Relations
The Content Strategy Network
It is essential that all dimensions are interrelated. For example, if a focus goal is recruitment marketing (employee acquisition), the other dimensions must also be aligned with this goal. The career networks XING and LinkedIn will probably be the first port of call here, while the goal of employer branding – especially among the young target group – is most likely to be played on Instagram.
The content strategy network helps to clearly display the interdependence of the dimensions. In addition to the dimensions that exist in every company, such as targets, formats, senders, etc. (green), the company-specific dimensions (pink) must also be included.
The content strategy network shows the interdependence of the individual dimensions.
From content mix to editorial planning
Once the content strategy and dimensions have been defined, all the collected results and goals are recorded in a content plan, which also takes into account the respective weighting of the topics. A weighting can look as follows, depending on the goals and the company:
Subsequently, depending on the topic and weighting, the monthly frequencies are transmitted on the individual platforms. A more important topic is of course also brought more often – but none should go under! Evaluated, it can look like this:
An Excel spreadsheet is perfect for evaluating the number and frequencies achieved and adjusting the editorial plan if necessary. In this way, the content plan lays the foundation for structured editorial planning.
But beware: Quality over quantityapplies here – the frequency is not set in stone . There is no perfect posting frequency – it also depends on the target group, the topics and the company in general. If you have a lot to say that is actually relevant to the target audience, this can be communicated five times a week. At the same time, it also pays to publish exciting, attention-grabbing and useful content at longer frequencies. It is important that there are no holes, and in the worst case nothing happens for two weeks.
For professional editorial planning and publishing, incl. Content calendars and sharing functions, on the other hand, are often needed more than an Excel spreadsheet. A number of tools enable clear planning and organization of individual postings. At my agency and for many of our clients, we work with Agora Pulse. The tool provides a one-stop shop for editorial planning and related community management and is compatible with Facebook, Twitter, Instagram, LinkedIn and even YouTube. In our blog post on social media management, we present the tool in more detail.
The right tagging strategy
Most social media tools allow you to assign so-called "tags". In this way, individual contents are tagged with a keyword, which can be used subsequently for reporting and analysis. Of course, the tags should be based on the previously mentioned dimensions !
A strategy is only successful if the results are measured and subsequently acted upon. Tagging can thus be started directly when creating a content mix – and this is also highly recommended. Many companies shy away from tagging because it takes time. Here, too, we recommend finding the golden mean:
"Tag as much as necessary and as little as possible!"
Only through tagging can the defined content mix be checked and what is even more important: Only through tagging can you learn from the results!
If you want your company to have a successful presence on social media, you need a well-planned strategy, because posting wildly will not bring results. It's not only important to have a good plan, it's equally important to stick to it. Often, the responsible persons in the company are drowned out or, due to time constraints, resort to simple and boring postings. Social media must be thought of as part of the overall marketing strategy. The dimensions should also align with other planned communications and marketing efforts , as this is a way to reinforce holistic messages through social media. For more and more companies, the social media strategy is actually at the heart of the overall marketing and communications strategy. So, conversely, other measures can also be derived from the social media strategy and the results collected.
The strategy becomes measurable through sensible tagging and reporting. In this way, it is also possible to react to the collected findings in retrospect. A professional social media presence therefore requires intensive preparation, implementation and follow-up – if you follow through, it will pay off!
Do you have any questions? Then get in touch with us:
https://www.humanbrand.com/wp-content/uploads/2021/07/FB-LI-XI_strategischer-Social-Media-Content.png
628
1200
Christian Haberl
https://www.humanbrand.com/wp-content/uploads/2019/07/HB-Logo-2018-new.png
Christian Haberl
2021-07-05 16:30:24
2023-01-28 10:55:34
Strategic social media content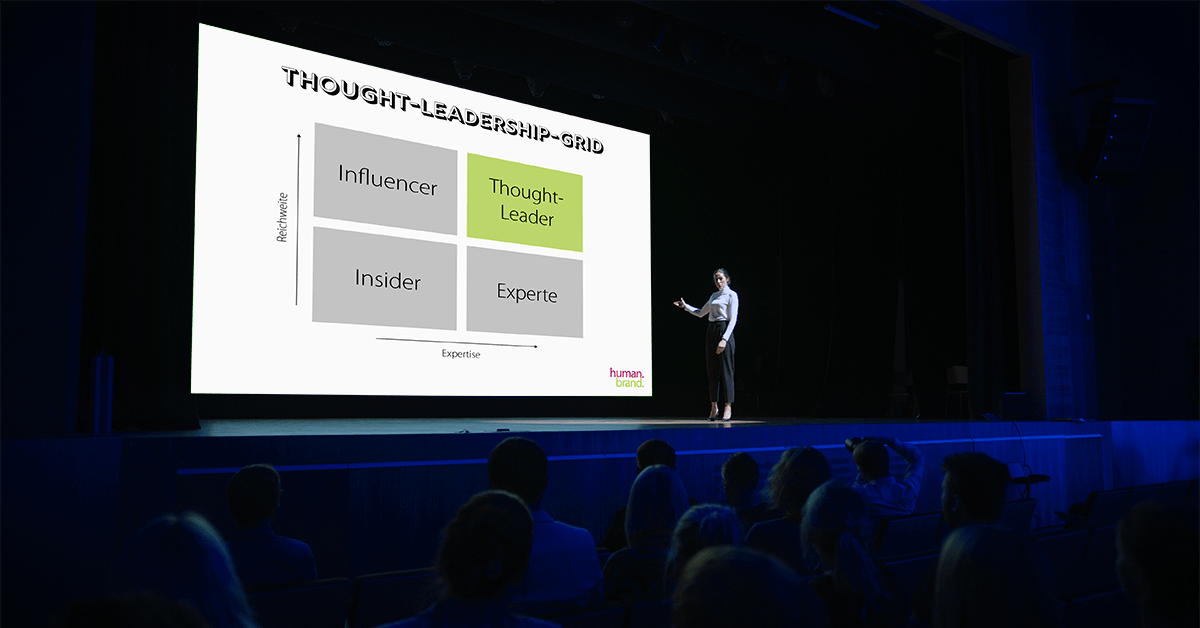 https://www.humanbrand.com/wp-content/uploads/2021/04/Tiny_Blog-Header-Thought-Leadership.png
628
1200
Christian Haberl
https://www.humanbrand.com/wp-content/uploads/2019/07/HB-Logo-2018-new.png
Christian Haberl
2021-04-21 16:09:32
2023-01-28 10:46:50
Thought leadership: How to sell yourself with your expertise